Our own Toni Smith ministering to the children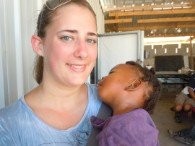 We believe that brookside church has the resources to send at least one of the small buildings to Haiti
$2,600 shipped
Many are not able to go on the mission field, but would still like to help. You can do so financially. Every gift, small or great is accepted with heartfelt gratitude, and is an advancement and blessing to the Kingdom of God. Donations are tax deductible and go 100% to the ministry you designate.
BE THE CHURCH
Please support this mission with your prayers.
To give financially, click below and please designate your gift for Haiti. Thank you!