Christoffer P. Johnson - Memorial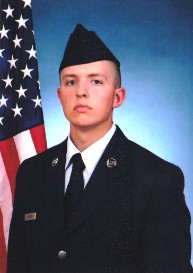 A1C Christoffer P. Johnson, July 5, 1990-February 17, 2011.
He is survived by his parents, Marcus and Julee Johnson, along with two siblings, Katelyn and Seth Johnson. Christoffer is a 2008 graduate of Clarksville High School.
Christoffer was serving as a member of the Air Force Security Forces in support of Operation New Dawn. He died February 17, 2011 while on final security patrol at Al Udeid Air Base in Qatar. While serving with the 423d Security Forces Squadron, Royal Air Force Base Alconbury in England, Christoffer volunteered for deployment and had been in theater for approximately 3 weeks of a 6-month rotation.
Christoffer was laid to rest at Florida National Cemetery in Bushnell Florida on Saturday, February 26. A memorial service was on Tuesday, March 1, at Riverside Church in Clarksvile, TN.
donations may be made in Christoffer's honor to: (click on link below)
Fisher House Foundation, Inc.
111 Rockville Pike, Suite 420
Rockville, MD 20850-5168
please specify donation to go to:
The Fisher House for the Fallen in Dover, DE in memory of Airman 1st Class Christoffer Johnson
Dignified Transfer February 19, 2011 at Dover Air Force Base, Delaware
Dignified Transfer February 25, 2011 from MacDill Air Force Base, Tampa, FL to Florida National Cemetery Busnell, FL
Memorial Service at Riverside Church in Clarksville, TN